News!!!
After many years of hosting wonderful guests at our Bed & Breakfast,
Tony & I have decided to retire!
With regret, we are no longer taking any reservations.
This includes overnight accommodations, teas, classes and any other events.
Our cookbooks and downloads will still be available on line.
Click here to see what we've cooked up......
Those who have already made reservations will be able to enjoy our last hurrah and we look forward to seeing you soon.
With bittersweet excitement, we move into a new phase of our life.
We will certainly miss hosting our treasured guests and
have so many wonderful memories of our time together.
Welcome to Cheesecake Farms!
**************
Treat your city bones to country space!
Cheesecake Farms is a simple, grass roots,
agri-educational farm that encourages
healthy foods, healthy gardens and a healthy outlook......
served up with a generous helping of southern charm and Virginia grace.
Refined, understated elegance.
Fresh air, green grass and a heavenly star show
Cheesecake Farms was once the perfect place to relax, refresh and reconnect.
Off the beaten path but close to everywhere you want to be.
Visit wineries. Shop for antiques.
Discover historical sites. Golf. Hike. Bike.
Take in the Gold Cup and other horse events.
Ride in an old fashioned air plane. Pan for gold.
Just 50 miles from Washington, DC or Richmond.
20 miles from Fredericksburg, Culpeper or Warrenton.
Cheesecake Farms is smack in the middle of Virginia's gracious Hunt Country.
But Fauquier County is wine country, too......
Can't make it to Cheesecake Farms?
We'll bring Cheesecake Farms to you!
Cheesecake Farms for Media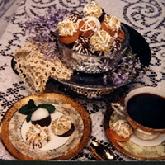 Karla's hand dipped, signature Cheesecake Truffles (tm)
What do horses and cheesecakes have in common?
Lots!
For twenty years, Karla Seidita owned a marvelous cheesecake bakery in Fredericksburg, Virginia. It was called Karla's Great Cheesecakes.
Each day, Karla and her staff turned mounds of cream cheese into yummy dessert cheesecakes, wonderful hors d'oeuvre cheesecakes and lovely, hand dipped cheesecake truffles (tm).
Karla's cheesecakes were legendary. Heads of state, landed gentry, corporate giants and movie stars all enjoyed Karla's desserts.
Several years ago, Karla retired from commercial baking to tend her gardens and her ponies at her home, Cheesecake Farms.
>>>>>>>>>>>>>>>>>>>>>>>>>>>>
Cheesecake Farms is proud to have been awarded "Virginia Green" certification!

It's a testament to our on going efforts for a greener Virginia and a greener planet!!






*Off the beaten path but close to every where you want to be*
Web Hosting powered by Network Solutions®